Post by Phoenix on Apr 25, 2009 21:10:14 GMT
INTERNAL USE ONLY
NOT FOR RELEASE
Created by user AI351, showing 17 edits by user LPhoenix

THE FLETCHED ALLIANCE
[/size]
25/04/2009
Internal Message - Topic: Base Renovation

That's right, someone has decided that since the base has been relatively unchanged for more than a minute, it's time to rip everything up and redo it again! This week's itchy trigger fingers belong to no less than Phoenix and the Kitten, just so you know who to lynch when you get lost. So without further ado, the
damage
changes, presented in
a fashion so simple even an Alliance member could understand it
an easy-to-read format for your convenience.
(Very funny, 351 - LP)
I - The Big Map
1
- Entrance ~~~
2
- Ready Room ~~~
3
- Infirmary ~~~
4
- Central Hall ~~~
5
- Security Control
6
- Power Generation ~~~
7
- Workshop ~~~
8
- Command Center ~~~
9
- Teleport Halls ~~~
10
- Press Room
The base in its new shape is roughly split into three areas, which Phoenix insists on calling 'wings' for reasons known only to herself
(Because that's what they're called! Sheesh, most uneducated AI ever. - LP)
and which this handily-illustrated guide will go through one by one.
II - Entry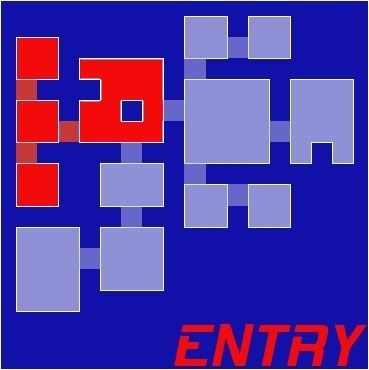 This
, obviously,
is the first area you will encounter when arriving. The Entry area is decorated in a welcoming style reminiscent of Japanese teahouses, as Kitten and Phoenix have recently travelled to the country and
evidently have no originality whatsoever
were inspired by some of the things they saw there.
(Har har. I know it's likely futile, but try to stick to the brief, 351. I'm pretty sure what I dictated to you didn't go like that. - LP)
Entrance
Self-explanatory. Entrance is now exclusively via teleporter as the depth of the base beneath ground level made maintainance of the tunnels to allow physical access difficult and expensive. That, and the Red Caps apparently found the door a hilarious target for knife-testing.
Ready Room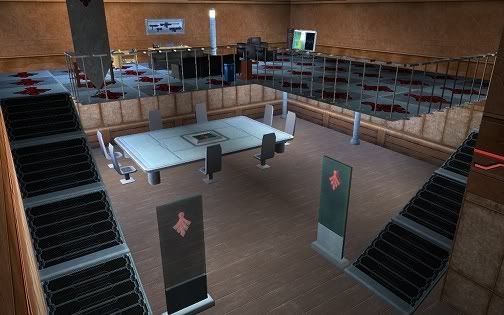 Self-explanatory again.
Sensing a trend here? Yes, your leaders do think you're dumb enough to need these concepts explained.
(Not the best thing to say, since we, y'know, control your access to electricity. - LP)
A place to be on the very rare occasion that alcohol is not permitted/required but you might be needed for a job anyway.
Infirmary
If history has taught us anything, it's that Alliance members tend to get themselves hurt, either by their own
stupidity
enthusiasm or one of our many, many enemies. This fine establishment contains hospital-standard equipment to
patch you back together and convince you you're ready to fight again
put you back on your feet should you need the help.
(We're short on new recruits as it is without you scaring people off. Be nice. - LP)
Central Hall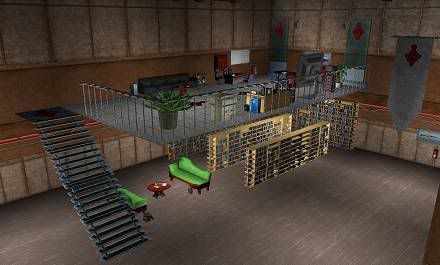 This, as the name once again implies, is the central hub of the base. It contains a
well-stocked
library, facilities for visitors both civilian and heroic, and most importantly of all...
The Bar
It has guns. It has the best selection of alcohol this side of the Atlantic. What more could you need?
III - Control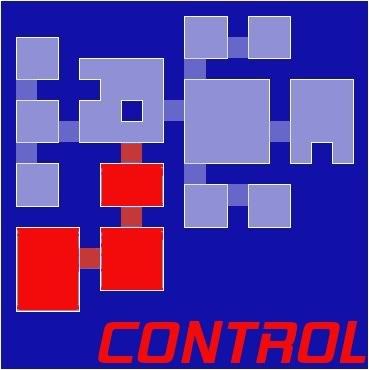 The Control 'wing', to the south of the Central Hall, houses everything that the base needs to run properly
,so anyone reading this should probably keep out to avoid breaking the very complex machinery
. This area handles power generation and device control, in addition to housing the base workshop.
Security Control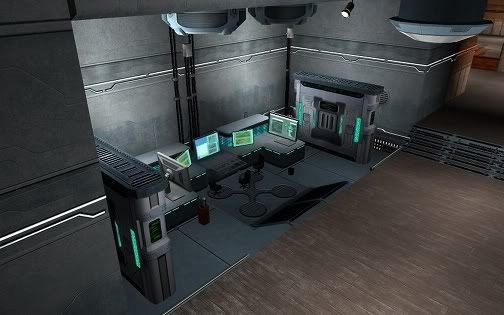 So we have a really big computer.
Just cause it's shiny doesn't mean you yokels have to come over and poke it.
(Again, insulting the people who can unplug you not such a good plan, boyo. - LP)
Responsibility for its upkeep is shared between AI 351 and the Alliance's leader, who is free to delegate that responsibility if he or she chooses. All terminals are password and laser-turret protected.
Power Generation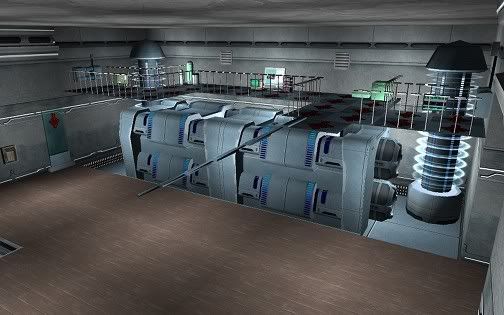 The big humming thing makes the electricity that the base needs to run. Keep your arms and legs out of the turbines, people, we've already had to clean three technicians off the walls.
Workshop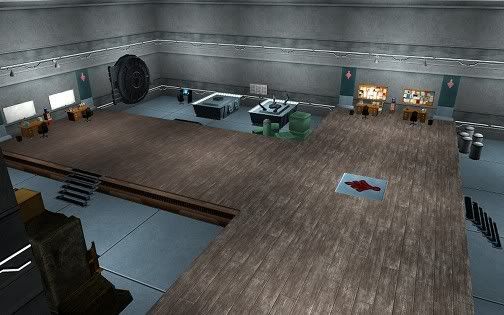 It's a storage area for all the
junk
salvage you all find and the bizzare contraptions you make from it. Simple, really.
IV - Command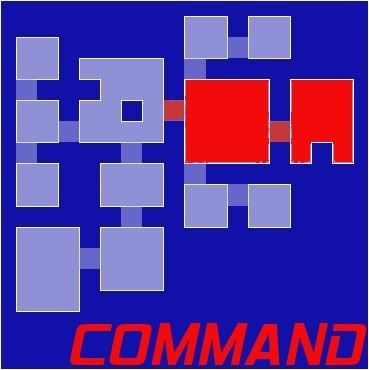 This area, decorated
oh-so-vainly
in Alliance colours, is the nerve center of the base. All the information our internal and external sensors and communications collect is funneled here and presented in an understandable format. Oh, and it's also where we pen up the press and fob them off when they come after us.
(For once, we agree. - LP)
Command Center
Home to the massive computer core of the international Alliance network, this meeting room is the seat of power for the leader of the Alliance
- leader in this case of course meaning that sap who relies on me to do their job
(Yes, you can very occasionally be helpful. Don't rub it in. - LP)
and a symbol of that strange, suicidal tenacity we all share.
Press Room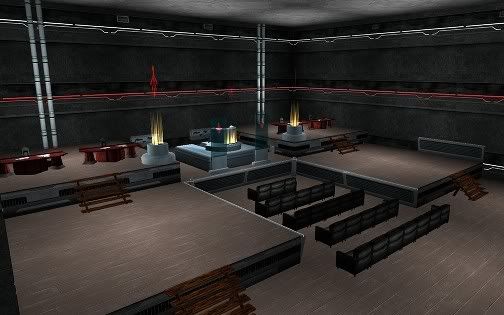 Unfortunately, that greatest of all evils, the 'free press', takes a rather keen interest in our activities. When all other options have been exhausted, the
official scapegoat
leader of the Alliance can corral the bleating sheep into this handy pen and soothe them with the mighty power of their words
of distraction
.
V - Transport
This surely doesn't need explaining. Wrapped around the Command Center, the teleport chambers provide access to:
The Core Zones (
Galaxy City, Atlas Park, Steel Canyon, Kings Row
) in the adjuncts to the Press Room.
The remaining City Zones, arranged in roughly increasing order of Security Level clearance from west to east in the North Hall.
The Hazard Zones, again arranged ascending from west to east in the South Hall.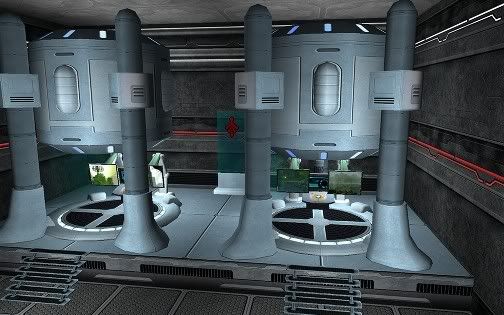 Teleport pads have been simultaneously clearly labelled and idiot-proofed. Touch where you want to go, confirm on the main panel, and away you go.
END OF DOCUMENT
Editing Notes:-
I've pointed out what needs changing, so get on it, then send the result back to me for another read-over. Publish this without permission and I swear I will reprogram you. With a hammer. - LP
[/center]